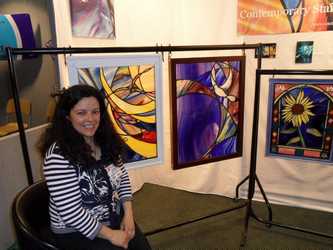 I am happy to give free consultations by phone or email, regarding possible commission ideas and costs. I will fully consult with the client before producing a design. This is either posted or delivered personally for further discussion. There is no obligation to proceed at this point, however I do need to make a charge for the design of £40. This is usually payable in advance. A more accurate quote is given at this point. Alterations to the design are free but to reproduce another design may incur a further fee.
I will visit the site of the commission when possible, especially for larger commissions. This is not always necessary for smaller commissions. The visit enables me to check light levels and dimensions of the window. I also like to meet my clients in person to get greater understanding of what is required and for preferences of themes and colours. I may not need to visit if the client would like a copy of one of my windows in the gallery.
If both parties are happy to proceed, a deposit of one third of the quote is required. This covers the cost of materials. I would then proceed to make the stained glass. Clients are welcome to visit the workshop, to check on the progress of the window. I will then deliver and install the window if necessary. Clients are welcome to collect the windows of smaller commissions, to help keep the costs down. I prefer not to post small panels when possible, due to risk of breakage.
I promise a very fair, honest, friendly service and aim to keep my costs as reasonable as possible, giving
every commission my best effort.
Please call for any advice 0789 50 39 545
Thank you,
Ruth Ward